Hours: Mon-Thu 9am-6pm PST
Emails received Fri-Sun replied to on Monday
Thank you for all the support and understanding after the sudden loss of our beautiful 2 year old Grandson.
This has been a very difficult time for our family and especially our son.
We were out of the shop for a great deal of time in October due to this and as a result the builds got backed up. We are working diligently to get caught back up.
We appreciate all the emails, prayers and thoughts we've received through this tragedy.



---
---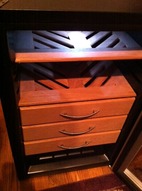 Custom drawers & shelves for converting your wine cooler into a Wineador™!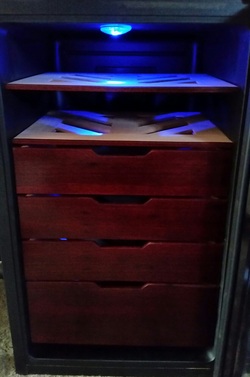 ---
---
I love getting letters like this. :)
"Hey Forrest,
I wanted to thank you for making such a nice drawers for my Wineador. They arrived yesterday in a perfect condition, and the quality and craftsmanship is absolutely fantastic. When I opened the box, my wife who's been together with me that time, said when saw them, that they look gorgeous ;). They really look amazing...!!! I'm so happy with the way everything turned out. I like how nice you chose that dark ebony I wanted. They not only have such a precise fit inside my Wineador, but they also slide so perfect, and that wood grain is just giving it such an elegance and charming look...and the smell of that Spanish cedar is awesome...!!! Thanks again Forrest.

Ciprian R. - Vancouver, CAN" 12/5/14
---
---
Turn your wine cooler into a temperature controlled humidor for your cigar collection!
Built with 3/8" Kiln Dried Spanish Cedar.
Chevron slat bottoms, notch front design is the standard style.
If your brand of Wineador™ is not listed above (I only get a few pages available for products), just contact me via email and I'll be happy to quote you. I have a fairly extensive library of wine cooler specs, so chances are I may have the dimensions already.
All items are custom built and normally ship in approximately 5 weeks. Longer lead times can occur due to extensive workload. Simply email with any time constraints before ordering and I'll be happy to work with you. I do not stock items ready to ship.
International orders will have their freight charges billed separately after order is boxed & weighed.
See what some of my customers have had to say
here
Quality construction methods.
Emails received Fri-Sun replied to on Monday
Handcrafted in the U.S.A.